April 12th 2020 by Colin Hardie
Bees and Wasps… Friend or Foe? Part 1 – Solitary Bees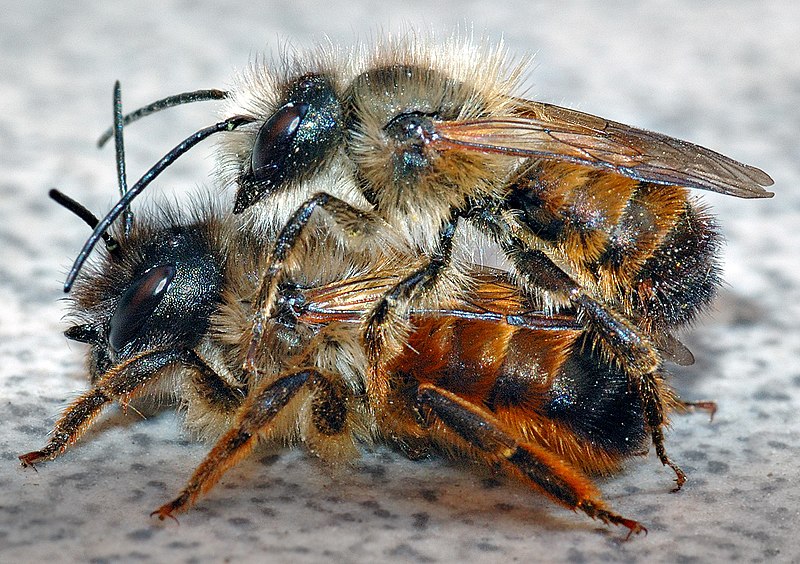 The days are getting warmer and the nights are getting lighter… in lofts and sheds around the country, dormant insects are waking up and starting the search for a new home this summer. Each year, AllPest Services respond to hundreds of calls for bees and wasps – educating, advising and taking action where necessary.

There are around 270 different species of bee in the UK, and around 250 of these are described as solitary bees. As the name suggests, unlike their more familiar counterparts – the bumblebee and the honeybee – these insects don't live in groups or hives; they live alone.
Around April, we start to receive calls about bee activity and at this time of year we expect the majority of these will be for solitary bees; most commonly mason bees and mining bees. These are generic names and include many separate species under one label but they have many things in common. Like other bees, these species are important pollinators and are vital to our ecosystem. They do have a sting, but it cannot penetrate human skin so these insects are not considered a threat to public health or safety.
Mason bees burrow into soft, weak mortar to lay eggs and are most commonly found on south facing walls where the sun heats up the stone. Insecticidal treatment is not appropriate in most cases and if you have a masonry bee problem our advice is likely to be that you should consider having your brickwork repointed.
Mining bees are most commonly found digging holes in lawns and borders, leaving behind small 'volcanos' of earth. These tiny holes often leave customers confused and suspecting rodents or something more serious, however, the bees don't cause any lasting damage and we will not carry out a treatment against them.

Later in the season we expect to see calls for bumblebees, honeybees and wasps. Look out for more blog posts for information on these other species.

RECENT POSTS
Bees and Wasps… Friend or Foe? Part 1 – Solitary Bees

Read Post

ISO 9001 & 15001 Certification

Read Post
HEAD OFFICE OPENING HOURS
Monday
0800 – 1800
Tuesday
0800 – 1800
Wednesday
0800 – 1800
Thursday
0800 – 1800
Friday
0800 – 1800
Saturday
On-call Service
Sunday
On-call Service
POST CATEGORIES